Breast Lift Salt Lake City & Layton, Utah
Plastic surgery to lift sagging breasts is called mastopexy, or breast lift.
---
Before & After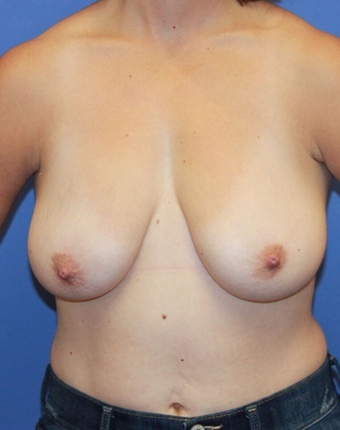 female one year after breast lift View More.
---
Breast Lift FAQs
What is a breast lift?
The overall goal of Dr. Yates' breast lift procedures is to return the breasts to a higher position on the chest. You can think of it as a younger position. The breasts sag for different reasons. As we age, weakening support tissues put more stress on the ligaments that attach the breasts to the pectoral muscles, and these ligaments stretch. The breasts grow by at least one cup size and then lose size (sometimes beyond their original size) during pregnancy and through breastfeeding. The gain and subsequent loss of a good deal of weight causes the skin to stretch. To reverse these changes, Dr. Yates removes excess skin and repositions tissue to raise and firm the breasts. In most of these procedures, the nipples and areolae are repositioned to match the higher position.
How is a breast lift performed?
As with each of his surgeries, Dr. Yates views every breast lift as unique to that patient. Excess skin, sagging support tissues, even fatty areas in the breasts vary between each patient. Because of that, Dr. Yates adapts these procedures to fit the unique needs of the patient. With a breast lift, the incision locations and the extent of the incisions vary depending on the degree of sagging and how much excess skin needs to be removed. There are three options for your incisions:
Areolar incision – A donut-shaped incision is made around the areola. This is also known as a small-incision mastopexy. This method can be used with women with smaller breasts who have minimal sagging and minimal excess skin. It creates minimal visible scarring, as the incision is hidden by the areola.
Lollipop incision – This starts with the donut-shaped incision, but it then extends downward, ending at the breast crease. In cases of moderate sagging and skin excision, this method should provide adequate access.
Anchor incision – This follows the lollipop incision, but then extends in both directions along the breast crease. Obviously, this incision provides the most access for removing fatty tissue and trimming excess skin. It also creates the longest scars.
Once the incision has been made, Dr. Yates lifts and reshapes the breast tissue to counteract the way in which breast volume has bottomed out. If he uses the lollipop or anchor incisions, the nipples and areolae will be relocated to a higher position on the breasts to match the new profile. In most cases, Dr. Yates will also make the areolae smaller if the skin has stretched. The final step is to trim away excess sagging skin.
Who is an ideal candidate for a breast lift?
Breast lifts are great procedures if you're unhappy that your breasts have flattened and seem to have lost volume. If these characteristics sound like your situation, this could be a good procedure for you:
Your breasts have lost their shape or volume
Your breasts sag
The skin on your breasts is stretched
Your breasts are flat, elongated, or pendulous
Your nipples point downward
Your breasts are asymmetrical
There are a couple things to note, however. Breast lifts with Dr. Yates don't change the size of your breasts; they simply bring more breast mass back up to a higher position on the chest. A lift doesn't change the fullness or roundness in the upper portion of the breasts. If you want to add fullness or size, adding implants to the breast lift procedure will accomplish that. Also, if you plan on having additional children, you are not a good candidate for a breast lift. That isn't an arbitrary thing — pregnancy and breastfeeding will nullify your results, plus it will likely distort your incision scars. Even if you think you may have another child this isn't the time for this procedure.
What will my recovery be like after breast lift surgery?
Dr. Yates will go through your recovery during your consultation, but patients should not expect it to be simple. This is an involved procedure, and you will need pain medication for at least the first couple of days. Your breasts will be bandaged and you'll be in a surgical support bra when you return home later in the day after your surgery. You'll have some continuing pain along your incisions, but you will improve pretty quickly. You should plan on swelling for a couple of weeks. Dr. Yates will give you a timeframe to transition from your surgical bra to a full support bra, but wearing it full time is a critical part of your breast lift recovery. You'll need to wear your support bra 24 hours a day for at least one month after your surgery. This is very important to keep any pressure or stress off of your incisions. This helps to minimize the scarring. Most patients can return to work in about a week, but if your job involves any heavy lifting this needs to be avoided for six weeks. The same is true for strenuous exercise…six weeks. Any activity that causes your breasts to move, such as aerobics, can't happen for a period of time. By being prudent with this advice, your scar tissue can reach its maximum strength. This will also allow the scarring to fade more dramatically with time.
What are the risks with a breast lift?
This is major surgery, so it entails all the risks that come with any surgery: excessive bleeding, poor wound healing, infection, reaction to general anesthesia, and the like. There really aren't any singular specific extra risks with this procedure other than possible loss of nipple sensation and loss of breast sensation. These usually resolve themselves as the nerves adjust. Seeing as you should already be finished with having any more children, the possible impact on potential breastfeeding isn't really a ris
Where are the scars for a breast lift?
One of three basic breast lift scar patterns is chose
Circumareolar (scar around the areola of the nipple)
lollipop (scar around the areola and vertically beneath the nipple)
---
---
Anchor scar (lollipop scar plus a horizontal scar beneath the breast)
---
---
---
The technique used is tailored to the individual patient depending upon the degree of breast droop and skin excess.  Other factors such as the size or areola and whether or not an implant is added affect the decision as to which scar pattern would be best. The breast scars associated with a 
Utah breast lift
 can be significant and must be completely understood by the patient prior to proceeding with surgery. Successful, aesthetically pleasing results depend largely upon the artistry and skill of the surgeon. An artist himself, Dr. Yates prides himself on obtaining excellent results, serving the Salt Lake City, Utah area. Dr Yates will discuss the most pleasing scar pattern at the time of your 
consultation
.
Does insurance cover a breast lift?
How much does a breast lift cost?
The average cost of a breast lift is $4,377, according to the American Society of Plastic Surgeons 2014 statistics.   This does not include implants, anesthesia fees or operating room fees and the patient can expect a total cost a bit higher.   For example the cost of breast lift without implants in our office is $4700 – $7000 and the cost of a breast lift with implants is $7,000 – $9,500.  For a list of the costs of common procedures performed by Dr. Yates click here.
I am planning on having breast augmentation, how do I know if I need a breast lift?
Patients fit into three categories 1) "need" a lift 2) would benefit from but don't "need" a lift 3) don't need a lift
Those patients that "need" a lift would get a poor result with augmentation alone (the breasts would appear to be "slipping off" the implant). Those in category (2) may benefit from a lift for "optimal" aesthetics, however the scars to achieve the lift may or may not be an acceptable trade-off for the patient. With 3D imaging, there is now an exciting way for the patient to visualize this change with implants alone to help them determine for themselves whether they really want a lift.
Since 2010, 3D imaging has been available in our office in Layton, UT.
Are breast implants always used?
Breast implants can be used in addition to breast lift to help achieve more breast fullness. Breast implants are necessary if you would like increase the size of your breasts.
There is a myth that the only way to achieve fullness of the upper breasts is to add an implant. That is true with "skin only" lift procedures. Deep breast tissue rearrangement and reshaping can result in some addition of fullness for some patients using the patients own breast tissue.  However, if significant increase in upper breast fullness is desired, an implant is necessary.
There is some degree of breast lifting with an implant alone from the effect of filling the skin envelope.  For some patients a shaped or anatomic implant is better than a round implant in achieving this effect.
How long does a breast lift last?
A variety of factors determine the degree of long term breast droop improvement.  The patients tissue characteristics, elasticity, support, and breast weight will determine how well the lift procedure lasts.  Generally, patients with heavier breasts and poor skin elasticity will not maintain the results as well but this is impossible to absolutely predict.  An implant can contribute longer lasting upper fullness.  For some patients a reduction of lower, droopy breast tissue with addition of an implant can improve the longevity of the procedure.  So called – addition/ subtraction surgery.
Breast reduction with a lift and implants.   Why remove breast tissue if you are adding an implant?
Women with heavy breasts who want less droop and more upper fullness often benefit from reduction of the heavy lower tissue at the time of breast implants. This helps to achieve a fuller upper breasts and the results last much longer. There are also often times where one breast is larger than the other and by removing more from the larger breast we are able to use the same implant on each side which helps to achieve improved symmetry.
Can a breast uplift improve asymmetric breasts?
Breast lift can be designed to treat asymmetric breasts. Breast lift is a very artistic procedure and each breast is treated separately.
Where does Dr. Yates perform breast lifts?
Breast lifts can be performed under general anesthesia in an outpatient operating suite or local anesthesia with deep sedation in Dr. Yates AAAASF certified clinic operating room. Generally patients choose the latter for financial reasons. A board certified anesthesiologist administers the anesthesia for a breast lift at either location. Dr. Yates strongly believes that this is important both for patient safety and comfort.
How much pain should I expect from a breast lift?
Pain and possibly nausea can be significant for the first few days after a breast lift. To minimize this pain, long lasting numbing medication/ pain medication is placed in the site of the operation during the procedure. This helps alleviate much of the pain for the first evening following the procedure, which is generally when the discomfort is most significant. You will be given medications for pain and nausea for the next several days.
On our Facebook business page, other patients have discussed their recovery and experience after breast lifts as well as other procedures.
When can I return to work or the gym after a breast lift?
Generally you can return to desk work within 3-6 days, may resume moderate lifting within three weeks and gym activities at approximately six weeks.
What risks are associated with breast lifts?
As with any cosmetic surgery, there are possible risks and complications. Dr Yates will thoroughly discuss these rare but potential risks at the time of your consultation. On the rare occurrence that a complication does occur, Dr Yates will work diligently to correct it at no additional surgeons fee. Happy patients are a Plastic Surgeons best ally.
How do I schedule a consultation or schedule surgery?
Contact Dr. Yates office or feel free to email him any additional questions you may have.
Office Based Surgery Safety Information
---
We proudly serve patients in Layton, Utah and the surrounding areas. Call us at (801) 525-8741 to schedule a consultation or contact us here to learn more about a breast lift.