CoolSculpting Salt Lake City & Layton, Utah
Freeze the fat, Utah!
CoolSculpting® is a non-surgical treatment that freezes stubborn fat, which then is naturally eliminated from your body. No needles, no sedation, no surgery and no downtime. Patients often spend procedure time reading, working on their laptops, or napping. It's safe, FDA-cleared and effective. The results are not generally as impressive as can be achieved with traditional liposuction but there is less risk of contour irregularity. These natural results can be seen as early as three weeks following treatment, with the most dramatic results after one to three months. Dr. Yates is one of only two board-certified plastic surgeons in Utah offering CoolSculpting. The expertise of a plastic surgeon who also does traditional liposuction and abdominoplasty is important to ensure the appropriate procedure is chosen.
CoolSculpting procedure
The area to be treated is assessed and an appropriate hand-piece is chosen. This is placed on the area and the area is frozen to very cold temperatures for 35-60 minutes, depending on the specific handpiece and treatment area. The treatment is uncomfortable but tolerable for the first 6-8 minutes followed by a more comfortable remainder of the procedure as the area becomes numb. Most patients watch movies or work on their smartphones during the procedure.
Neck and chin CoolSculpting vs Kybella?
It looks like 2016 will be the year of the chin and neck. Kybella is an injectable chemical that destroys fat which has been recently FDA approved for use on the neck. Although Kybella is exciting, CoolSculpting has many advantages over Kybella including fewer treatments, less pain and swelling, easier recovery, and less cost. Hopefully, we will have some good head to head studies regarding effectiveness soon.
How does CoolSculpting work?
Fat cells are more sensitive to freezing than other tissues, such as skin. Upon treatment, the fat cells undergo a freezing process termed cryolipolysis in which the cells die and are removed naturally. Those fat cells are gone for good, never to be replaced.
CoolSculpting FAQs
Where can CoolSculpting be used?
CoolSculpting can work anywhere there is a localized fat deposit. CoolSculpting was first FDA cleared for use on the abdomen and upper hips. In 2013, a hand-piece designed to treat non-pinchable fat was developed, extending the reach of CoolSculpting procedures to include the outer thighs. A smaller hand-piece was released at the end of 2015 which is designed to treat the neck. The newest innovation in handpiecess now allows the treatment time to be cut in half.
Am I a good candidate?
The ideal CoolSculpting candidate would otherwise be a good candidate for liposuction but is interested in a less invasive method with no downtime. They have realistic expectations and understand that the results may not be as impressive as liposuction. The results with multiple treatments can approach or even exceed those achievable with liposuction in some cases.
When will I see results?
You may start to see changes as quickly as three weeks after your treatment, and will experience the most dramatic results after one to three months. Your body is still flushing fat cells and will continue doing so for up to four to six months after treatment.
Can I return to normal activities?
CoolSculpting is completely non-surgical, so typically you can return to normal activities immediately. Some patients experience redness, minor bruising, tingling, numbness or discomfort in the treated area, but this is temporary and will resolve completely. Often times, patients return to work after the session is over.
Are CoolSculpting results permanent?
During CoolSculpting, the treated fat cells are eliminated. As long as you maintain a healthy lifestyle, long-term results should remain stable.
CoolSculpting Results
---
---
In this patient the treated areas: upper abdomen x 1, lower abdomen x 2, bilateral upper hips. Photos 3 months after treatment.
Before & After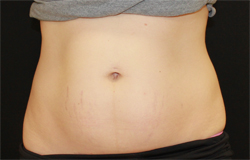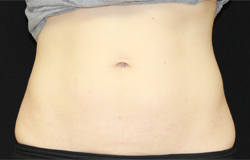 before and after coolsculpting of the lower abdomen and upper hips View More.
How do I get started?
Call us today at (801) 525-8741 or fill out a Contact Form here to set up your free consultation. We'll see if you're a good candidate for CoolSculpting in Salt Lake City and Layton, Utah and work with you to develop a treatment plan.