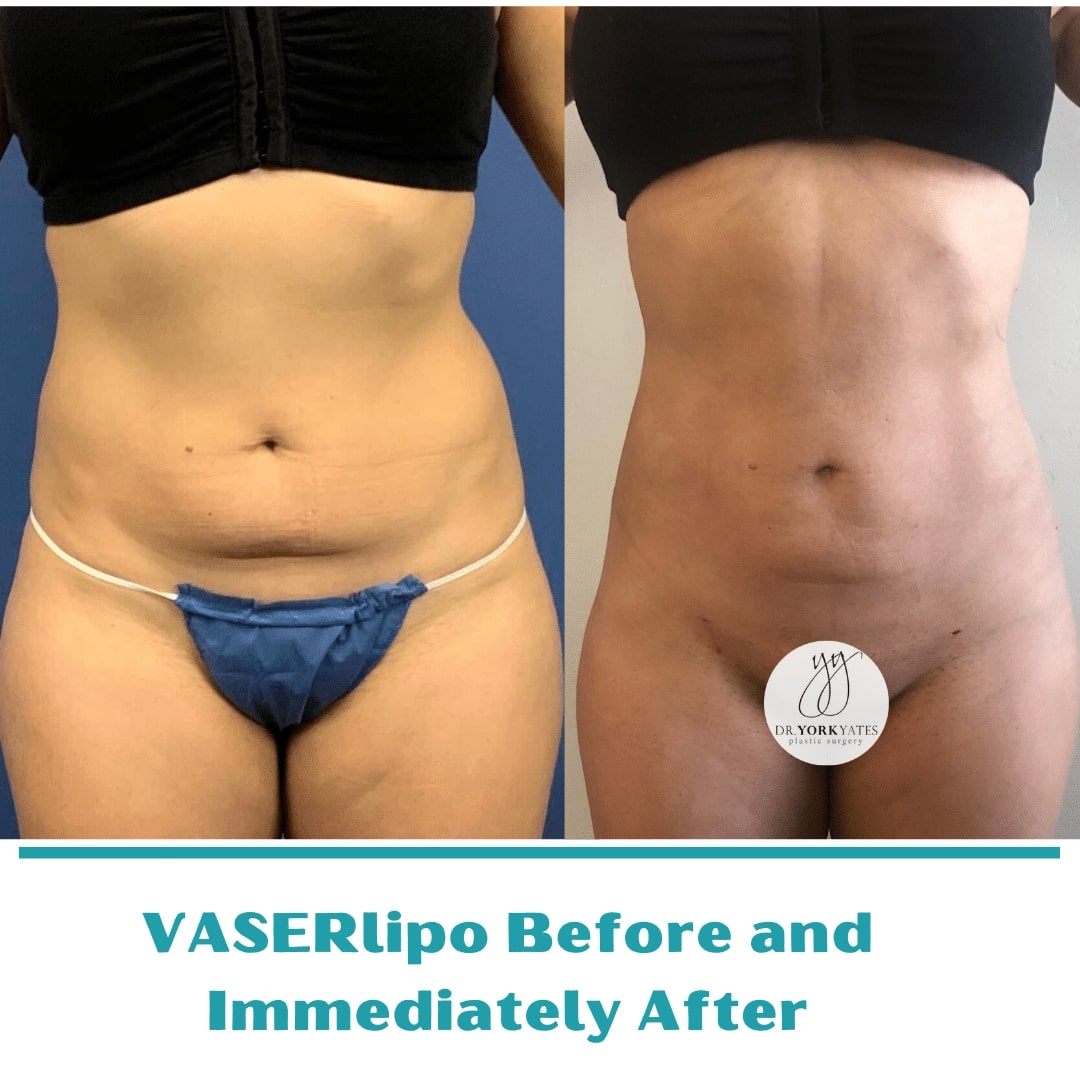 Liposuction of the abdomen can be very effective. The best candidates have excess fat with very little loose skin or stretch marks.
I have loose skin on my abdomen, am I a candidate for Liposuction?
Loose abdominal skin can be tightened with liposuction to a small degree. If the amount of loose skin, stretch marks, or muscle bulge are significant a tummy tuck may be the procedure of choice.
How is Liposuction of the abdomen performed?
Small incisions are used. The deep fat is treated with larger cannulas, getting progressively smaller the closer the treatment to the skin. The intra-abdominal fat (beneath the muscle surrounding the intestines) cannot be treated with liposuction.  Dr. Yates will often use VASER liposuction in the abdomen. Vaser liposuction of the abdomen gives Dr. Yates more tissue control, allowing for High Definition results.
What should I expect for recovery from Abdominal Liposuction?
It is extremely important to wear the compression garment to help encourage the skin to take on its new shape after liposuction of the abdomen. The garment should be worn day and night as much as possible for 3 weeks after surgery.
What kind of anesthesia is used for Abdominal Liposuction?
Liposuction of the abdomen can be done with local anesthesia, sedation, or general anesthesia. We prefer sedation and tumescent local anesthesia allowing an aggressive treatment comfortably with minimal risk.
Are Liposuction Results Permanent?
Having abdominal liposuction, or liposuction anywhere on the body, will not prevent future weight gain. Only your healthy lifestyle habits can work against that. Your liposuction procedure will permanently remove an impressive percentage of belly fat. You won't grow new fat cells. Fat cells from other parts of your body won't move. In fact, your body will continue to store fat in the same places it always has.
Being that there are fewer fat cells in the abdominal area after this liposuction procedure, there is less of a chance that the midsection will become disproportionately large should you gain weight. What can happen if you gain weight is that the other areas of your body that are programmed to store fat may look out of proportion with your slimmer, flatter tummy.
How Much Fat Can Liposuction Remove?
Liposuction is all about cosmetic results. It's not going to do much for the scale. That said, high-volume liposuction may remove up to about 5000 ml of fat. This is how surgeons measure it. Translated, it may equate to about 11 pounds of fat.
More than the amount of fat removed or the difference on the scale, the benefit of abdominal liposuction, in particular, is contour improvement. It is often the fat that we keep that makes the results.
Will Abdominal Liposuction Give Me a Six-Pack?
There are two types of abdominal fat: subcutaneous fat and visceral fat. It's the subcutaneous fat that obscures whatever abdominal tone you have achieved through diet and exercise. (Keep in mind, it's visceral fat that contributes to concerning health conditions). So, if liposuction removes a fair amount of the abdominal fat you have, will you have a six-pack? Not necessarily.
Some surgeons out there perform techniques that "carve" the abs to enhance the appearance of muscle tone. Dr. Yates does not recommend doing false muscle sculpting aggressively as it doesn't age well. That said, there is no way to truly have a six-pack without doing the specific work it takes to strengthen and build out the abdominal muscles. Your abdominal liposuction procedure can give you a smooth, flat, flab-free midsection (provided you don't have a lot of visceral fat), but it will not reveal muscle tone that isn't naturally there.
Do I Need Time off for Abdominal Liposuction Recovery?
You will experience some bruising, swelling, and discomfort after undergoing abdominal liposuction. You may rely on prescription pain medication for two to three days, which can make you feel groggy or unbalanced. For this reason, you may be advised to take about one week off work to allow your body time to recover without a sense of urgency.
During your first week after abdominal liposuction, it's important to balance rest with a little bit of walking a few times a day. The purpose of walking is merely to promote good circulation and decrease the risk of blood clots forming in the legs. After five to seven days, you may notice that your energy and comfort have improved enough for you to return to work and other light activities. You will need to continue following your post-op instructions, including activity restrictions, for up to six weeks after your procedure.
Schedule Your Abdominal Liposuction Consultation Today!
To inquire about abdominal liposuction or to schedule an appointment with Dr. Yates, please call 801.525.8741 or submit an online contact form. We also offer secure, private, online virtual consultations.